Instalasi "strapi" di DigitalOcean
Dear Pembaca setia,
Kali ini penulis hendak berbagi langkah-langkah yang dilakukan penulis saat melakukan instalasi strapi di DigitalOcean (bila belum punya akun, dapat klik di link berikut, untuk mendapatkan saldo $100: digitalocean).
Tutorial dari instalasi ini penulis dapatkan dari berbagai sumber, resmi dari DigitalOcean sendiri, ataupun dari forum yang ada di DigitalOcean juga.
Instalasi strapi
DigitalOcean sudah memberikan kemudahan dalam instalasi strapi, berupa image untuk droplet yang saat diinstal sudah langsung berisi strapi, dan konfigurasi firewall juga sudah dilakukan. Petunjuk tersebut penulis dapatkan di sini. Berikut langkah-langkahnya:
Create Droplet
Pilih tab 'Marketplace', dan di textbox ketikkan 'strapi'

Kemudian pilih 'Plan' untuk droplet nya, minimum adalah "2GB RAM / 1 CPU"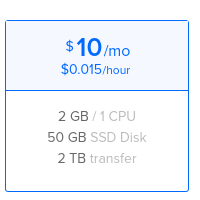 Kemudian pilih 'Data Center' terdekat,
Pilih moda 'Authentication'-nya (SSL / Password, rekomendasi SSL)
Langsung tekan tombol hijau besar 'Create'
Tunggu 30 detik sampai 1 menit untuk droplet nya terbentuk

Tunggu lagi beberapa menit (~5 menit), untuk instalasi strapi selesai

Cek di browser, untuk IP yang diberikan, untuk mengetahui apakah instalasi sudah selesai atau belum. Refresh terus halaman sampai keluar pesan berikut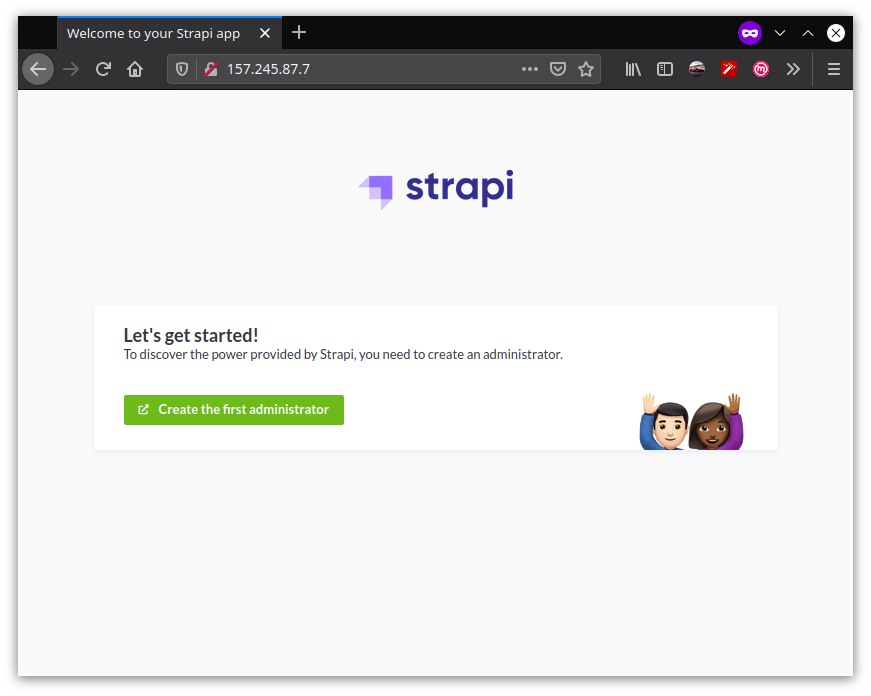 Tekan tombol hijau 'Create the first administrator', dan selesaikan pengisiannya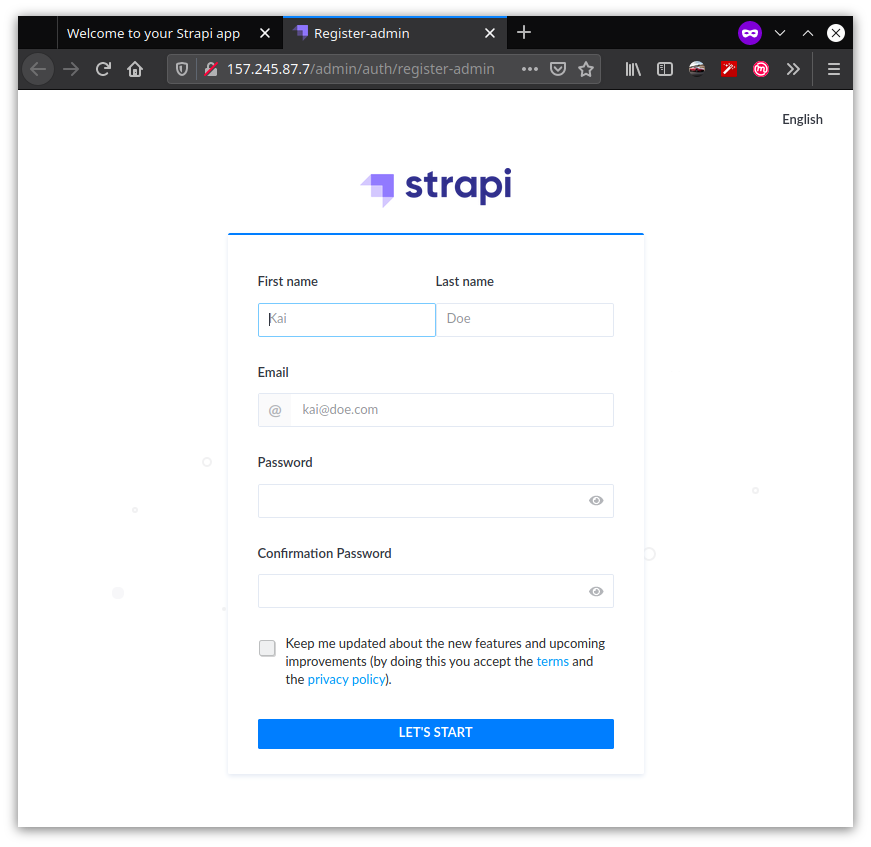 Pengarahan Domain
Arahkan domain kita sendiri (misal: domainku.com) ke IP yang diberikan di droplet tersebut. Untuk cara pengarahan, dapat merujuk ke penyedia jasa domain masing-masing
Konfigurasi SSL di nginx
Tutorial ini penulis dapatkan di forum DigitalOcean juga, di link berikut: link
ssh root@157.245.87.7
Modify file nginx yang mengatur konfigurasi routing-nya, dengan perintah
nano /etc/nginx/sites-available/strapi.conf
ubah "server_name _;", menjadi "server_name domainku.com www.domainku.com;"
Login sebagai user strapi
sudo su strapi
Modifikasi file server.js yang dapat dilakukan di
nano ~/strapi-development/config/server.js
Ubah url: 'https://domainku.com'
Installasi SSL
Instalasi ini menggunakan tutorial yang dapat diakses di link berikut:
sudo apt install certbot python3-certbot-nginx
Pastikan sekali lagi konfigurasi sudah benar di
nano /etc/nginx/sites-available/strapi.conf
Check apakah certbot dapat membaca file tersebut
sudo nginx -t
Mendapatkan file certificate dari Let's Encrypt
sudo certbot --nginx -d domainku.com -d www.domainku.com
Bila domain sudah diarahkan ke IP tersebut, dan konfigurasi nginx benar, maka akan keluar pesan sebagai berikut (rekomendasi pilih nomor 2)
Output

Please choose whether or not to redirect HTTP traffic to HTTPS, removing HTTP access.
- - - - - - - - - - - - - - - - - - - - - - - - - - - - - - - - - - - - - - - -
1: No redirect - Make no further changes to the webserver configuration.
2: Redirect - Make all requests redirect to secure HTTPS access. Choose this for
new sites, or if you're confident your site works on HTTPS. You can undo this
change by editing your web server's configuration.
- - - - - - - - - - - - - - - - - - - - - - - - - - - - - - - - - - - - - - - -
Select the appropriate number [1-2] then [enter] (press 'c' to cancel):
Kemudian akan keluar pesan berikut
Output

IMPORTANT NOTES:
 - Congratulations! Your certificate and chain have been saved at:
   /etc/letsencrypt/live/example.com/fullchain.pem
   Your key file has been saved at:
   /etc/letsencrypt/live/example.com/privkey.pem
   Your cert will expire on 2020-08-18. To obtain a new or tweaked
   version of this certificate in the future, simply run certbot again
   with the "certonly" option. To non-interactively renew *all* of
   your certificates, run "certbot renew"
 - If you like Certbot, please consider supporting our work by:

   Donating to ISRG / Let's Encrypt:   https://letsencrypt.org/donate
   Donating to EFF:                    https://eff.org/donate-le
Perintah berikut untuk memastikan status timer pembaharuan certificatenya
sudo systemctl status certbot.timer
Dan berikut adalah tampilan hasilnya
Output

● certbot.timer - Run certbot twice daily
     Loaded: loaded (/lib/systemd/system/certbot.timer; enabled; vendor preset: enabled)
     Active: active (waiting) since Mon 2020-05-04 20:04:36 UTC; 2 weeks 1 days ago
    Trigger: Thu 2020-05-21 05:22:32 UTC; 9h left
   Triggers: ● certbot.service
Restart strapi services
Dapat dilakukan dengan login sebagai strapi user
sudo su strapi
Kemudian jalankan perintah
pm2 restart strapi-development
Demikian pembaca setia, tutorial kali ini. Semoga dapat membantu.
Salam,